And the winner is…. Our GSK-3 inhibitor BI-5521 has won the first opnMe poll. Access it now for free!
Today, Boehringer Ingelheim has added its well-characterized non-covalent ATP-competitive inhibitor of glycogen synthase kinase (GSK-3) Bi-5521 to its molecule platform opnMe.com. High selectivity and decent PK properties make BI-5521 a suitable tool for in vivo validation of GSK-3 as a therapeutic target.
This release has been supported by a public poll from July 2-11 where we asked scientists from all around the world to choose between two unique and attractive molecule compounds.
Please find out its its full pre-clinical profile and order it completely free of charge. You will own all results you will generate with the tool compound and may use them for your own publications. The GSK-3 inhibitor BI-5521 marks the 24th molecule to order that has been added to opnMe.com..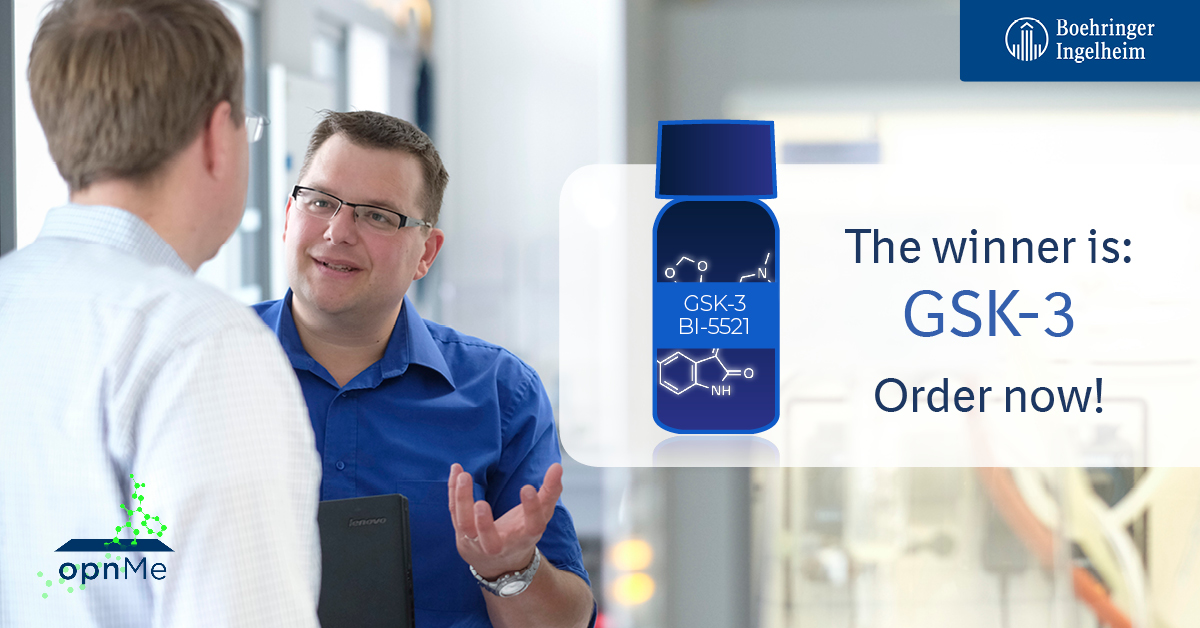 Subscribe to our newsletter to stay updated as we add new molecules to opnMe.com.
About BI-5521
BI-5521 is a potent and selective ATP-competitive small molecule inhibitor of glycogen synthase kinase 3 (GSK-3) with demonstrated in vivo activity. GSK-3 is a constitutively active serine/threonine kinase that phosphorylates a large number of proteins in a variety of different pathways. BI-5521 is active on both isoforms GSK-3α and GSK-3β with single digit nM potency. We could demonstrate glucose lowering efficacy of orally administered BI-5521 in both acute and subchronic settings in rodents. We also offer the N-alkylated analog BI-4481 as negative control.
About opnMe:
opnMe.com, the new open innovation portal of Boehringer Ingelheim, aims to accelerate research initiatives and enable new disease biology in areas of high unmet medical need by sharing well-characterized, best-in-class, pre-clinical tool compounds. Our GSK-3 inhibitor belongs to our 'Molecules to Order' program, which offers molecules free of charge. In addition, for our Complex I ROS modulator we are inviting scientists from around the world to propose novel research and funding proposals to explore its biology in the context of diseases. If your proposal is selected, the science will be developed together with Boehringer Ingelheim scientists as part of a bi-lateral collaboration. Application deadline is September 15, 2018. Learn more…